About
About Me At A Glance
About the blog and what you can expect
My goal is to provide you with practical takeaways for everyday church leadership. I hope what I share is pragmatic and easily transferable to your leadership context. You lead differently than me. Your church experience is different than mine. But I hope there are some leadership takeaways that will aid you in leading effectively and efficiently.
You can subscribe via email or RSS. You can also follow me on @Twitter, where I will let you know when I have posted a new blog as well link to others who produce church leadership resources.
Contact me via Email or Twitter.
More about my life and church leadership experience
I have benefited in ministry because people have taken the time to teach me. When I was five, my dad began his commitment to vocational ministry. That meant leaving our Arizona home and heading to Southwestern Baptist Theological Seminary (where I also would later attend) in Fort Worth, TX.
As my Dad learned, I began to learn from him. Sometimes he taught formally, but mostly it was by his example. My dad just recently retired from a 20 year pastorate in Tempe, AZ,  CrossPoinTempe as pastor.
In high school, I met and began a friendship with a girl named Deanna. Four years later, we married. I have had the rare privilege of finding a best friend, falling in love with her, marrying her, and building a life together.
Just a couple months into our dating relationship, while we were both 16 years old, I said "yes" to God's call to vocational ministry. I felt very clearly that He wanted me to commit my life to serving him in ministry and Deanna is grew into that call alongside me. She has been and is an awesome wife and ministry partner.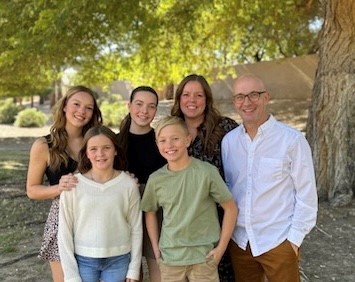 Pursuing that call included earning a degree. So off I went to Grand Canyon University (and Deanna went to Arizona State also in the Phoenix area) for college. While in Phoenix, I was able to intern at North Phoenix Baptist Church.
There, Pastor Dan Yeary, along with many other staff, mentored me and gave me invaluable experiences serving students. With each given responsibility, they took the time to teach me. But my growth there went beyond my staff position. Spiritually speaking, those years were the most formative of my spiritual life. It's at this point I began to practice and benefit from the "spiritual practices" and see how God was growing me to serve Him personally and professionally.
When I finished college, it was time for seminary. Deanna and I moved 1,000 miles away to Texas. I began seminary at Southwestern Baptist Theological Seminary. I graduated, four years later, with a Master's degree in Christian Education. When seminary began, I also started serving First Baptist Lewisville, Texas. My role began as Associate Student Minister and 15 months later, I moved to the role of Associate Pastor for Discipleship.
With the help of a lot of great staff and the trust of the senior pastor, Stephen Hatfield, I gained 13 years of meaningful ministry experience there which included me serving as their executive pastor. While very hard to leave, I felt that God called me to Brentwood, Tennessee, where until recently I served as Executive Pastor at Brentwood Baptist Church. During the time I served Brentwood Baptist, we launched strategic regional campuses and also merged with other churches that became unique expressions of Brentwood Baptist in eight locations around Middle Tennessee. We are now excited to serve a 7-year-old church plant in the Phoenix metro area.
Deanna and I have four children. Our three daughters and one son bring a special joy to our lives.
Colophon
This site was designed by Josh Jenkins and Katie Allred.  It runs on WordPress and is hosted with MediaTemple.